Announcing the arrival of our brand new design in Aluminum Can Crushers. The MasterCrush is available NOW. First of its kind to crush and recycle most of the aluminum drink cans made. Even the giant 32 oz belly washers! Finally one can crusher for all your recycling needs. PLUS ITS MADE IN THE USA.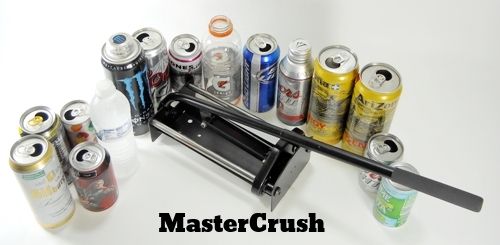 New Home for CANCRUSHERWORLD.COM products. Home recycling equipment.
The Best of the Best in Aluminum Can Crushers. We have done the investigating for you. Every one of the can crushers shown have proven themselves at home and in the market place.
We chose these crushers based on usability, function, durability, speed, and ease. Those can crushers that can't match up in some way we simply won't sell!
Some fit more of the above criteria than others. Just read the script by each can crusher if you don't know which to choose.
Education gives us the opportunity to make good decisions. We take Purchase Orders from Schools.
Fax 713 466 5156
Also check out - Fundraising with Aluminum Can Crushers